• Canadian style • Cotton • fanshawe • jacket • livechic • Local Artisans • quilted • Quilts • sustainable • upcycled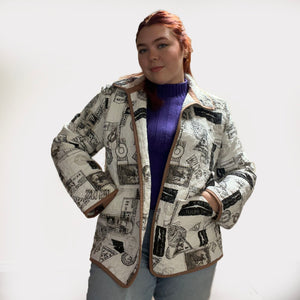 Hello! I'm Ana Mercader, a student in Fashion Marketing & Management at Fanshawe College.    As a fashion student, I keep learning how important it is to reuse, upcycle, and repurpose fabrics or any material to reduce waste and our carbon footprint. During my time at Fanshawe College, I got the opportunity to work at Live Chic, an in-campus retail store ran by students, for students (and faculty).    During my time working at Live Chic, I have learned a lot, I have been able to develop retail experience while having fun. Some of the tasks we do which I...
---
• accessories • living chic • Local Artisans

March 17th is St. Patrick's Day, a holiday celebrating Irish culture. This green themed holiday is celebrated all around the world! We have just recently received several new face masks! Even a couple of green face masks! Along with masks, we also just recently received jewellery photos below from The Brilliant Boutique and Six N Stone. Beautiful necklaces and earrings, available in store and online! Bored at home? Try these activities: Soak in the sunshine while listening to your favourite playlist If you live with others, play a board game or card game Find a new Youtuber you enjoy watching...