• Canadian style • Cotton • fanshawe • jacket • livechic • Local Artisans • quilted • Quilts • sustainable • upcycled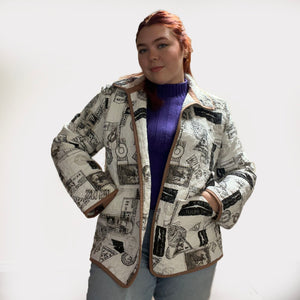 Hello! I'm Ana Mercader, a student in Fashion Marketing & Management at Fanshawe College.    As a fashion student, I keep learning how important it is to reuse, upcycle, and repurpose fabrics or any material to reduce waste and our carbon footprint. During my time at Fanshawe College, I got the opportunity to work at Live Chic, an in-campus retail store ran by students, for students (and faculty).    During my time working at Live Chic, I have learned a lot, I have been able to develop retail experience while having fun. Some of the tasks we do which I...
---
• Cotton • Dual Handles • Floral • Large • Quilts • School Bag • sustainable • tote bag • Travel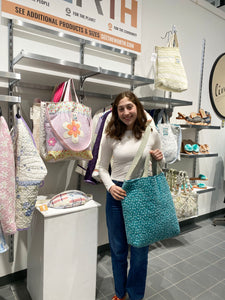 I'm Emily Giann, and I am in my final semester of the two-year fashion marketing and management program at Fanshawe College. Every Monday, I get the opportunity to work alongside my fashion friends in our very own store where I am surrounded by amazing merchandise which includes my favourite sustainably made Cocoon Tote Bags by See the Worth. I'm writing to tell you why this bag is perfect for your daily school needs while staying chic and shopping sustainably.    While being a part of the Live Chic team and a student within the fashion marketing and management program, I...