• accessories • bracelet • livechic • Love Local • summertime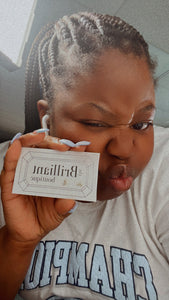 Hi my name is Denyse Tagarisa l am a second year Fashion Marketing And management student, l work are Live Chic as a sales representative and talk to costumers about the products being sold. Today I would like to talk about arrow stud earrings made by the  brilliant boutique, this signature piece is great for the up coming seasons; spring and summer. These earrings will attract a young adult demographic that are obsessed with jewelry including gold. They're yellow gold plated earrings, which are good for young women who are sensitive on the ears and overall these earrings will not...
---
• Cotton • Dual Handles • Floral • Large • Quilts • School Bag • sustainable • tote bag • Travel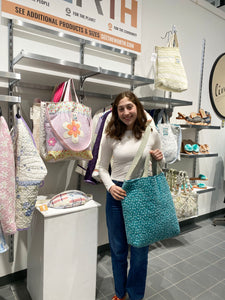 I'm Emily Giann, and I am in my final semester of the two-year fashion marketing and management program at Fanshawe College. Every Monday, I get the opportunity to work alongside my fashion friends in our very own store where I am surrounded by amazing merchandise which includes my favourite sustainably made Cocoon Tote Bags by See the Worth. I'm writing to tell you why this bag is perfect for your daily school needs while staying chic and shopping sustainably.    While being a part of the Live Chic team and a student within the fashion marketing and management program, I...
---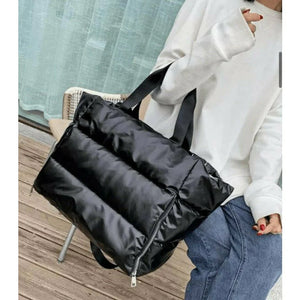 PreneLOVE - PUFFER HANDBAGS - comes in Metallic Blue and Black Our NEW premium Puffer Bags are a 'must-have' for serious handbag lovers.  Extremely lightweight, durable and fabulously fashionable, preneLOVE Puffer Bags are perfect for any occasion... just be prepared for OMG's from all your friends, family, co-workers and even complete strangers as these bags will definitely attract attention. All straps are adjustable from 27" to 52"   CLASSIC LARGE TOTES Our preneLOVE Totes fit snugly over your shoulder, looking sleek from the outside, while inside hiding plenty of room for your laptop, lunch, and whatever else the day throws your way. Comes in 4 styles. Available at...
---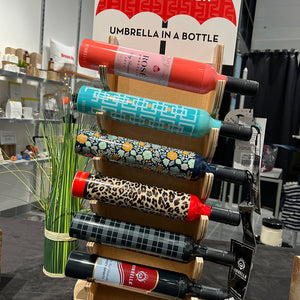 This year step out in the rain with style with your new Vinrella umbrella! So many colours and prints to choose! Treat Mom to a new fashion accessory that is stylish and oh so practical. She will love you for it on those rainy spring days ahead.  
---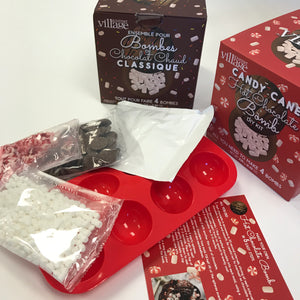 Kids will love this kit! It's filled with all the fun needed to create a Hot Chocolate with a special surprise that revealed in the warmed milk (tastes great with almond like too!) The kits come with the hot chocolate, marshmallows, melting chocolate, molds and sprinkles or tiny mint candy canes. All you have to do is put them together, heat the milk (not included!) and pour over in your favourite mug. Yummy goodness for a cold day! These kits can be found on livechic.ca Buy your kit before they are all gone!