• Eco-friendly • environmental • fanshawe • fashion trends • livechic • Slow fashion • Sustainable clothing • Vintage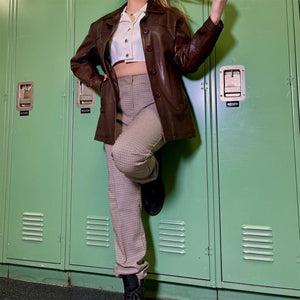 "The Story" was created as a sustainable fashion project by Fashion Marketing & Management students, where the students hand-curated every piece of clothing and accessories to give these items a second story. The Story´s Purpose The purpose of "The Story" is to promote sustainability. This collection also shows how people can be fashionable and have good quality pieces while supporting slow fashion. From denim pieces to dresses, every hand-selected piece has been curated to target men and women. Aside from clothing and accessories, the collection also features funky and vintage glassware like ceramic cups, wine glasses, plates, and more. Denim...
---
• accessories • Eco-friendly • fashion trends • Slow fashion • student made • Upcycled fashion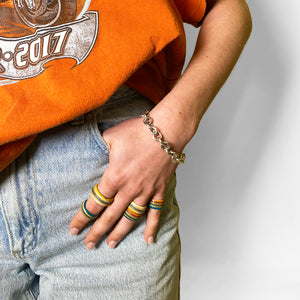 Many of our customers have been fascinated by one of Live Chic's newest additions, Cut & Crafted, which not only draws attention with its artistically distinctive display at the front of our store but also with the way their products are made! Cut & Crafted's sustainable rings are made from repurposed skateboard veneers. What's cool is that skateboard decks come in all sorts of colours and patterns, so each ring is entirely one-of-a-kind. By transforming discarded decks, these beautiful and eco-friendly pieces capture the essence of skateboarding.  Beyond their aesthetic appeal, these rings make a statement about sustainability. Skateboard decks...
---
• Easy matching jacket • Eco-friendly • Jacket • Quilt Jacket • See the worth • Slow fashion • Sustainable clothing • Upcycled fashion • Warm and fashion • Winter jacket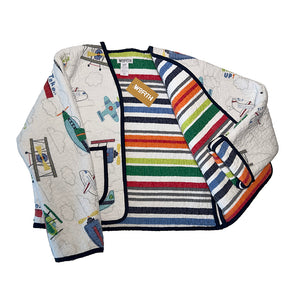 Hi, this is Chloe. I am a student in the fashion marketing management program. We are running our school retail store this semester. In this article, I am going to talk about my experience at Live Chic and introduce my favorite product from Live Chic.    My Experience with Store Management, Merchandise, and Product Selection at Live Chic.  Communicate with wholesalers to get the best price and enough products. Displaying the products in the store to make it more attractive and comfortable for customers to get the products. Regularly select the products. Stock the products that sell well and return...
---
• accessories • Eco-friendly • new arrivals • reuseable • student made • uniquedesign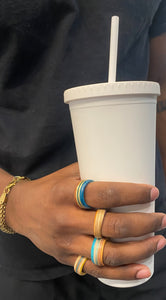 Greetings, I am Miles Adams, a Fashion Marketing & Management student currently studying at Fanshawe. - As part of my academic program, I am a dedicated student-worker at Live Chic, a retail outlet where I fulfill various responsibilities, including stocking and generating sales. During my recent shift, I had the pleasure of encountering a fascinating new product named Cut & Crafted: eco-friendly and sustainable wooden rings. - Through my work at Live Chic, I have had the opportunity to expand my knowledge of industry terminology, connect with local vendors, and engage with valued partners such as See the Worth.- The...