• accessories • Eco-friendly • fashion trends • Slow fashion • student made • Upcycled fashion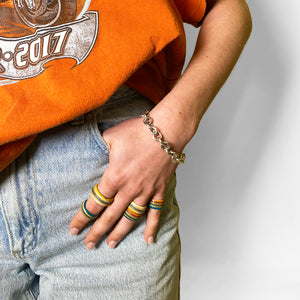 Many of our customers have been fascinated by one of Live Chic's newest additions, Cut & Crafted, which not only draws attention with its artistically distinctive display at the front of our store but also with the way their products are made! Cut & Crafted's sustainable rings are made from repurposed skateboard veneers. What's cool is that skateboard decks come in all sorts of colours and patterns, so each ring is entirely one-of-a-kind. By transforming discarded decks, these beautiful and eco-friendly pieces capture the essence of skateboarding.  Beyond their aesthetic appeal, these rings make a statement about sustainability. Skateboard decks...
---
• accessories • airportbag • crossbody • quilted • summertravels • travelessentials • uniquedesign • upcycled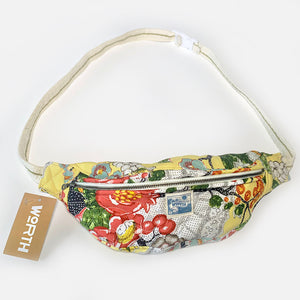 Hello friends! My name is Daniela and I'm a FMM student currently working at Live Chic every Monday. Throughout my shift I get to see all the new merchandise we receive and of course as fashion lover, it's hard to contain myself from buying all the goodies we have in-store. So, to make mine and your life easier, I have narrowed down my favourite item to the See the Worth Cocoon Crossbody Bag. Live Chic allows FMM students to gain real life experience operating a retail store. I have been able to work with my classmates to create in-store promotions that...
---
• accessories • Bracelet • gift ideas • Heartbracelet • Pinkbracelet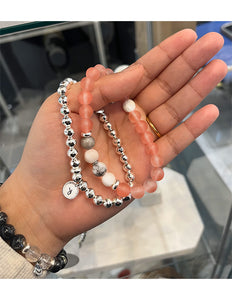 Hi I'm Nancy A student of Fashion marketing and management at Fanshawe college. I work as a visual merchandiser at our college's retail store which is Live Chic. I love working there because we promote sustainable local businesses with a different story. I like every brand and its line, but the "Six n Stone" is my favorite it's local and handmade. Fashion accessory Six n Stone presents all the pieces designed by Shannon Burnham and handcrafted by her and her small but devoted team. They concentrate on semi-precious stones, crystals, and high-quality supplies that are in line with our low costs....
---
• accessories • Eco-friendly • new arrivals • reuseable • student made • uniquedesign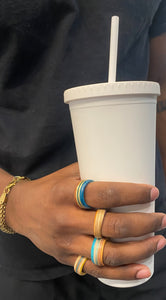 Greetings, I am Miles Adams, a Fashion Marketing & Management student currently studying at Fanshawe. - As part of my academic program, I am a dedicated student-worker at Live Chic, a retail outlet where I fulfill various responsibilities, including stocking and generating sales. During my recent shift, I had the pleasure of encountering a fascinating new product named Cut & Crafted: eco-friendly and sustainable wooden rings. - Through my work at Live Chic, I have had the opportunity to expand my knowledge of industry terminology, connect with local vendors, and engage with valued partners such as See the Worth.- The...
---
• accessories • bracelet • livechic • Love Local • summertime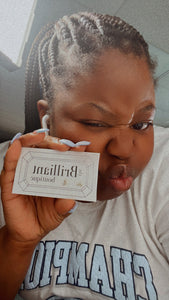 Hi my name is Denyse Tagarisa l am a second year Fashion Marketing And management student, l work are Live Chic as a sales representative and talk to costumers about the products being sold. Today I would like to talk about arrow stud earrings made by the  brilliant boutique, this signature piece is great for the up coming seasons; spring and summer. These earrings will attract a young adult demographic that are obsessed with jewelry including gold. They're yellow gold plated earrings, which are good for young women who are sensitive on the ears and overall these earrings will not...